WELL Health Technologies Corp. (TSX: WELL – OTC: WLYYF) – the "Berkshire Hathaway of Tech-Enabled Healthcare" – Could Be the Next Giant Healthtech Conglomerate
When Warren Buffett first bought Berkshire Hathaway in 1962, it was nothing more than a struggling textile mill.
Today, it is a $600+ billion conglomerate juggernaut,[1] owning businesses ranging from insurance and utilities to railroads and chemicals.
Berkshire's journey from humble mill to giant conglomerate is incredible. Unfortunately, the Berkshire of today is far too huge to generate the kind of returns that can truly change individual investors' lives.
It has become "just another" blue-chip stock – and one that some think has come in late or missed the boat entirely on many disruptive technologies.
But there's one fast-growing company that is in a position to have a profound impact on investor returns. It has learned from companies like Berkshire, incorporating what is arguably Berkshire's greatest strength – its operating structure…
Where the holding company acts like a giant institutional investor, seeking out operating companies to invest in that can generate the highest ROI…
And letting these subsidiaries operate independently with minimal interference, while the holding company does what it does best – efficiently allocating capital.
But this company has learned from Berkshire's mistakes – and even improved on its operating model.
What's this company, you may ask? None other than WELL Health Technologies Corp. (TSX: WELL – OTC: WLYYF).
WELL firmly understands that technology is the future, and is committed to fully capitalizing on this wave…
Plus, it is only focused on acquiring companies within the multi-trillion-dollar healthcare sector, which allows it to generate powerful value-boosting synergies among its acquisitions (something that Berkshire does not focus on due to its divergent scope of investments).
And its biggest investor? Multi-billionaire Sir Li Ka-Shing – ranked the 43rd richest person in the world with a networth of $34.6 billion[2] and nicknamed "Superman Li" for his business prowess.
That's why it could be no exaggeration to say that…
WELL Health Technologies Corp. (TSX: WELL – OTC: WLYYF) is the "Berkshire Hathaway of Tech-Enabled Healthcare" – and the Company Could Be on the Cusp of a Major Growth Spurt
Much like Berkshire started in the textile business, WELL Health Technologies Corp. (TSX: WELL – OTC: WLYYF) began as a humble medical clinic operator.
And in just a few short years, it has grown to become a billion-dollar omni-channel company with 7 different healthcare business lines, including health clinics, electronic medical records (EMR), telehealth, digital apps, billing and cybersecurity…
WELL Health Technologies Corp. (TSX: WELL – OTC: WLYYF) owns 27 primary healthcare clinics in North America – the largest network in BC and the third-largest in Canada…
It operates a multi-national EMR business including its OSCAR Pro EMR asset, which is the third-largest EMR service provider in Canada (a $26.1 billion global market that's expected to hit $39.4 billion within 5 years[3])…
Its leading Canadian telehealth service conducts thousands of patient visits daily using its software.
All this was done through disciplined and accretive acquisitions, with shareholder dilution always being carefully managed.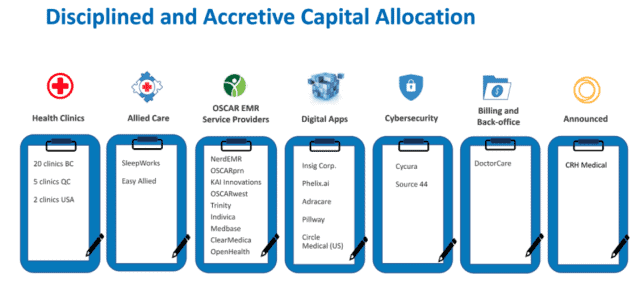 And although its stock has shot up by 313% since 2020[4]…
WELL Health Technologies Corp. (TSX: WELL – OTC: WLYYF) Remains Substantially Undervalued Compared to Its Peers…
Even though…
Its EBITDA already turned positive in the fourth quarter of 2020, with a 53% revenue growth for the year…
It's just completed a major acquisition that would add approximately C$175 million in revenues and C$72 million in EBITDA to its earnings…
WELL Health Technologies Corp. (TSX: WELL – OTC: WLYYF) has 10 signed letters of intent that could add another C$100+ million to its annual revenues by the end of 2021…
And it's planning a US IPO by the end of the year.
| | | | | | |
| --- | --- | --- | --- | --- | --- |
| Company | Symbol | Market Cap (USD)* | Share Price (USD)* | Revenue (USD) | EV/Sales |
| WELL Health | TSX:WELL OTC:WLYYF | $991M | $6.05 | $220M+**[5][6] | 5x |
| Veeva Systems | NYSE:VEEV | $40.8B | $268.29 | $1.1B[7] | 37.1x |
| Teladoc Health | NYSE:TDOC | $29.0B | $188.11 | $1.1B[8] | 26.6x |
| Oak Street Health | NYSE:OSH | $14.1B | $58.57 | $883M[9] | 16.0x |
| American Well | NYSE:AMWL | $4.1B | $17.23 | $245M[10] | 16.7x |
| 1Life Healthcare | NASDAQ:ONEM | $5.8B | $42.49 | $380M[11] | 15.3x |
| Hims and Hers | NYSE:HIMS | $2.3B | $12.29 | $149M[12] | 15.7x |
*Share Price and Market cap taken from Yahoo Finance on April 14, 2021
**This revenue figure is inclusive of the company's recent (completed) acquisition of CRH Medical, estimated to be on a runrate basis based on consensus estimates.
When compared to others in the industry, WELL's peer group trades at 10x to 20x revenue multiples, while WELL Health Technologies Corp. (TSX: WELL – OTC: WLYYF) trades at an EV to sales multiple of just 5x.
This means that although the company is far from being a risky early-stage startup company…
It still has plenty of room to grow, particularly as it continues to ramp up its acquisitions…
Which could place WELL Health Technologies Corp. (TSX: WELL – OTC: WLYYF) in the perfect risk-reward "sweet spot" for investors…
But this window of opportunity may be closing, as analysts expect its valuations to increase to a range more in line with its peers once the US IPO happens.
8 Reasons WELL Health Technologies Corp. (TSX: WELL – OTC: WLYYF) Could Be the Healthtech Play of the Future
Multi-channel Capability: With healthcare clinics, EMR services, telehealth offerings, digital apps, and more, the company is truly multi-channel, multi-service, and omni-channel in nature – able to offer both in-person and digital solutions to patients, healthcare professionals, and clinics. This allows the company to not only benefit from all aspects of the healthcare industry, but also provides defensive diversification qualities.
Track Record of Accretive Acquisitions: WELL Health (TSX: WELL – OTC: WLYYF) has a solid track record of buying profit-generating companies that can continually add value to its bottom line – all with carefully-controlled shareholder dilution. For instance, due to its acquisition of CRH Health, it is expected to experience 120% accretion to revenue and 800% accretion to EBITDA on a per share basis. However, shareholder dilution was limited to a mere 17%.
Value-Boosting Synergies Within Business Lines: Post-acquisition, the company also has multiple opportunities to add further value to its acquisitions via internal synergies within its business lines. For example, the company is planning to cross-sell its digital services to CRH Health's network of over 3,000 Gastroenterologist physicians, which are currently generally digitally underserved.
Rapid Acquisition and Growth Strategy: Within the first three months of 2021 alone, WELL Health (TSX: WELL – OTC: WLYYF) has already announced six acquisitions – one of which is a major US player. The company also has another 10 signed letters of intent that could add C$100+ million to annual revenues. Further, recent acquisition CRH Medical is itself a proven M&A player with a track record of 32 acquisitions and over 500 active deal targets.
Strong Investor Base: Multi-billionaire Li Ka-shing is a strategic investor in the company, among other institutional investors such as Manulife, CI Investments, Sentry Investments, Iconiq Capital, Fiera Capital, and the PenderFund Capital. Li Ka-shing and his partner personally led a C$302.5 million equity raise for the CRH Medical acquisition with their own investment of C$100M at an unprecedented 25% premium to market (based on the 5 day VWAP before announcement) – the additional C$202.5M came from the other institutional investors at the same premium.
Well Funded With a Strong Balance Sheet: WELL Health (TSX: WELL – OTC: WLYYF) boasts C$87 million in cash as at end-2020 – with zero debt. Only recently did the company take on some debt as part of the CRH Medical acquisition. However, even said debt facility was obtained at highly cost-effective rates of between 1.5% to 3.25% depending on leverage ratios.
Future US IPO Listing: The company's targeted US IPO in late 2021 will provide an additional cash infusion that it can use to turbocharge its acquisition strategy. Further, analysts also expect a US listing to push the company's valuation upwards to a level more in line with its peers. WELL is grossly undervalued when compared against US comps.
Proven Management Team with Skin in the Game: WELL Health's (TSX: WELL – OTC: WLYYF) management team are all veterans of Tio Networks, a multichannel bill payment processor that was acquired by PayPal for C$304 million in 2017.[13] They're also all heavily invested in the company, with the CEO personally investing approximately C$6 million in company stock – and never having sold a single share or taken a dollar of cash as salary thus far.
With all these factors in its favor, WELL Health Technologies Corp. (TSX: WELL – OTC: WLYYF) is…
Well-Positioned to Capitalize on the Massive Digital Transformation Wave Sweeping Through the Healthcare Industry
The health crisis has accelerated digital transformation in all areas, and healthcare is no exception.
For proof of this, look no further than telehealth.
In 2019, research firm Fortune Business Insights[14] estimated the size of the global telehealth market at "only" $61.4 billion…
By 2027, it expects that number to hit $559.5 billion, a compound annual growth rate of over 25%. That's an astounding growth rate that shows just how big the digital transformation opportunity in healthcare is.
Because although telehealth could soon be worth hundreds of billions, it's still just one part of the larger digital transformation opportunity…
And WELL Health Technologies Corp. (TSX: WELL – OTC: WLYYF) is strongly positioned to benefit from all aspects of this opportunity thanks to its multi-pronged approach to healthcare tech.
Beyond that, each new acquisition generates incremental opportunities for its existing subsidiaries, meaning the whole is truly greater than the sum of its parts.
Just like how…
WELL's (TSX: WELL – OTC: WLYYF) Recent Acquisition of CRH Medical Could Soon Turn the Company into a North American Digital Health Powerhouse
CRH Medical is a major player in the US gastroenterology (GI) market, with 72 GI ambulatory service centers, 411 GI providers, and over 3,200 GI providers trained to use its products and services.
This alone is already enough to generate over C$175 million in annual revenues, with an incredible 26% free cash flow margin.
Yet as investment bank Eight Capital said in a recent research report[15]…
"CRH's +72 clinic footprint remains digitally underpenetrated, providing a greenfield opportunity for cross-sell. We expect the introduction of a telehealth offering to optimize consumer reach and patient in- and outflow. Plans for the development of a GI-focused app will expand CRH's reach, increase traffic to clinics, and push product sales."
In other words, the additional C$175+ million in revenues – not to mention C$72 million in EBITDA and C$45 million in free cash flow – is just the beginning of CRH Medical's potential…
Because once WELL Health Technologies Corp. (TSX: WELL – OTC: WLYYF) integrates its digital health offerings with CRH Medical, it could be well on its way toward becoming the next North American digital health powerhouse.
Not to mention that CRH Medical is itself planning to swiftly expand its network and offerings through acquisitions (it has 500 active deal targets in its pipeline)…
Meaning the cross-sell synergies will have a powerful multiplier effect even years down the line.
The best part? All this was done with only a 17% shareholder dilution for Well Health's (TSX: WELL – OTC: WLYYF) shareholders.
It's all thanks to the support of the company's strong investor base, who were all too happy to put in their money at a 25% market premium (investors in this round included every member of its board and most of its management team, including the CEO and CFO of the company)…
Because they realized that the CRH Medical acquisition puts WELL Health in a great position for a US listing…
A powerful catalyst that is widely expected to drive its valuations up toward the ranges offered by its peers.
But while much focus has been (rightfully) given toward the company's CRH Medical acquisition…
WELL Health Technologies Corp. (TSX: WELL – OTC: WLYYF) Has Been Steadily Conquering the Digital Healthcare Industry, One Acquisition at a Time
WELL Health Technologies Corp. (TSX: WELL – OTC: WLYYF) is a diversified healthtech conglomerate that is rapidly making inroads in all aspects of digital health…
Just look at all of its businesses that it already has: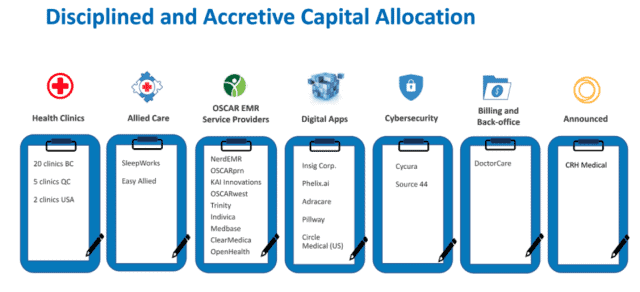 Like the $26.1 billion EMR market, an industry that is quickly growing as clinics scramble to digitize…
Because EMR is the "enterprise backbone" of a clinic, a system that manages everything from the backend database to the frontend point of sale…
Meaning clinics are unlikely to be able to remain competitive in the modern healthcare market for long without an EMR system.
WELL Health Technologies Corp. (TSX: WELL – OTC: WLYYF) is already the third-largest player in Canada for EMR…
Its main EMR offering – OSCAR Pro – is also open source, giving it greater versatility compared to its competitors. It has been a market share taker in Canada because of its strong interoperability with a large community of third-party app developers.
The company is also quickly adding to its EMR business line with other acquisitions, such as IntraHealth, an enterprise class EMR vendor with customers in Canada, Australia and New Zealand.
Meanwhile, it's also transitioning clinics owned by newly-acquired subsidiaries over to its EMR platform – showing just how easily the company can generate internal synergies.
Another example is its acquisition of Silicon Valley – and Y Combinator-backed – company Circle Medical.
WELL Health Technologies Corp. (TSX: WELL – OTC: WLYYF) completed a majority stake investment in Circle Medical in November 2020.
Yet in the past four months, Circle Medical's revenues have nearly doubled…
This highlights Well Health's (TSX: WELL – OTC: WLYYF) specialty – strategically allocating capital to undervalued companies that are usually on the cusp of greater growth, which makes the company…
A Fast-Growing, Diversified, and Undervalued Healthtech Play With Multiple Catalysts on the Horizon
Investors looking to invest in the digital transformation that is happening in the trillion-dollar healthcare industry face a common dilemma…
The industry is so vast, with so many different sub-sectors (both B2B and B2C) that they may not even know where to start.
Even if they did know about the various sub-sectors, they would need to invest in many different companies to have a truly holistic and diversified exposure…
Or, they could choose to invest in the large multi-billion dollar health conglomerates – where most of the major returns have already been snatched up years ago by early investors.
WELL Health Technologies Corp. (TSX:WELL) could be the answer to that dilemma…
It offers investors:
Diversified exposure to the entire tech-enabled healthcare market with a single investment…
Strong near-term growth opportunities thanks to multiple catalysts on the horizon – such as its expansion into the US from its CRH Medical acquisition plus its planned US IPO, as well as its 10 pending signed LOIs…
Long-term value from disciplined and accretive acquisitions that also benefit from internal synergies…
All at a price that analysts consider substantially undervalued.
So, instead of spending all that time and effort untangling the complex web that is healthtech, just to find a company that may or may not pan out…
Why not look at a company whose sole specialty is finding undervalued profit-generating companies across the entire healthtech spectrum, and then consolidating and modernizing them to create even more value?
In other words, why not let WELL Health Technologies Corp. (TSX: WELL – OTC: WLYYF) do the work for you?
There's a reason the company was recognized as a TSX Venture 50 company for three years in a row[16]…
Plus, its management team's track record speaks for itself.
WELL Health Technologies Corp.'s (TSX: WELL – OTC: WLYYF) Has a Management Team Consisting of Nothing but Proven Veterans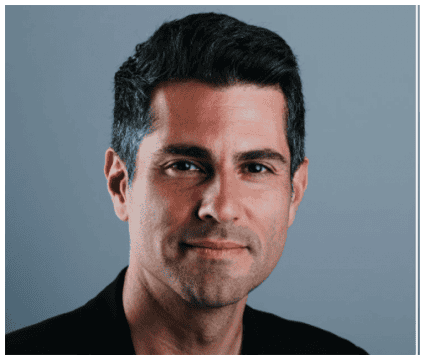 Hamed Shahbazi – Chairman & CEO
With over 20 years as a technology-focused operator, Shahbazi has a razor-sharp understanding of the intricacies of identifying opportunities and generating value in the sector. He was the founder of TIO Networks, originally a kiosk solution provider before Shahbazi transitioned it into a multichannel payment solution provider specializing in bill payments and other financial services. As a result, the company was acquired by PayPal in 2017 for C$304 million.
Shahbazi has extensive experience in strategic mergers, acquisitions, and divestitures, both as an operator and board member, with more than a dozen successful transactions. He is also the Lead Independent Director for mediatech company BBTV Corp, as well as the owner and operator of Impactreneur Capital Corp, which has over a dozen investments in leading digital content, ehealth, insurtech, and other technology inspired companies.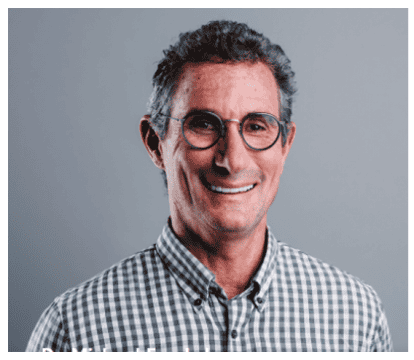 Dr. Michael Frankel – Chief Medical Officer
Dr. Frankel has 29 years of experience as a general practitioner in the Lower Mainland, giving him a wealth of experience in the medical industry. But more than just being a doctor, Dr. Frankel is also a healthcare investor and businessman, owning and operating a portfolio of successful primary healthcare facilities. This gives him a deep understanding of what healthcare facilities are lacking and how they can be improved – a crucial piece of WELL Health's (TSX:WELL) strategy.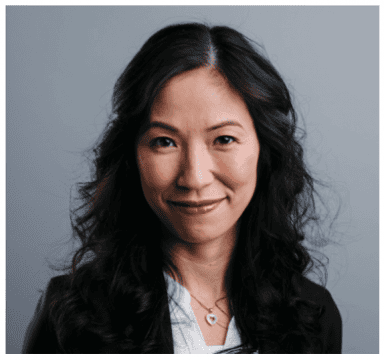 Eva Fong, FCCA, CPA, CGA – Chief Financial Officer
As the VP in charge of corporate strategy and M&A at TIO Networks, Fong intimately understands the full lifecycle of M&A transactions, from prospecting to integration and regulatory compliance management.
Her 25 years of experience includes Fortune 500 public company management, M&A, corporate strategy development, risk and compliance, and finance and business shared services programs. She's held senior leadership positions in various high-tech sectors including PayPal, TIO Networks, SAP, and 360networks, where she led business units and built best-in-class corporate culture.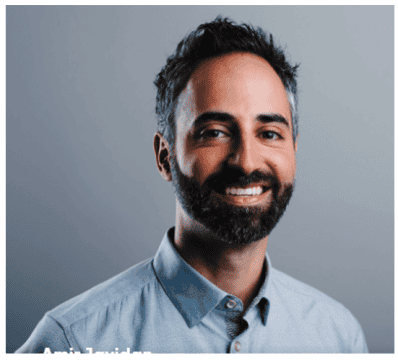 Amir Javidan – Chief Operations Officer
In his over 15 years of experience as a technology and operations executive, Javidan has been involved in two successful exits. Most recently, he was the SVP of Operations for TIO Networks, overseeing its C$304 million buyout by PayPal. Before that, he was at Avigilon, an integrated cloud and AI-powered solutions company, where he helped scale the business from a "stealth mode" startup to a public company worth over C$1 billion. He also helped take its revenue to over C$100M in five years.
RECAP: 10 Reasons Investors Should Seriously Consider Adding WELL Health Technologies Corp. (TSX: WELL – OTC: WLYYF) to Their Portfolios
It is a multi-channel, multi-product healthtech conglomerate that has the capability to benefit from multiple areas of the industry
A proven track record of accretive acquisitions of profit-generating businesses – all with carefully controlled dilution
Internal synergies from cross-selling can further boost the value of its acquisitions
Rapid acquisition and growth strategy gives it strong potential in a lucrative industry
Significantly undervalued compared to its peers; for example, its peer group trades at 10x to 20x revenue multiples, while WELL trades at 5x EV to Sales multiple.
Planned US IPO listing is widely expected to bring its valuations to a range more in line with its peers
Strong investor base including multi-billionaire Li Ka Shing plus other institutional investors, all of whom have shown willingness to pump in capital to support acquisitions
Proven management team with skin in the game that have executed successful M&As and exits
Multiple business lines within the healthtech industry provides defensiveness plus a hybrid physical-virtual competitive moat
Already a significant player within multiple lucrative business lines (such as EMR and telehealth) but with plenty of room to grow remaining
---
SOURCES:
[1] https://finance.yahoo.com/quote/BRK-A?p=BRK-A&.tsrc=fin-srch (15 Apr 2021)
[2] https://www.forbes.com/profile/li-ka-shing/?sh=38d286ff523f
[3] https://www.pharmiweb.com/press-release/2020-12-15/electronic-medical-records-emr-market-2020-size-and-growth-factors-study-and-estimate-4medica-a
[4] https://finance.yahoo.com/quote/WELL.TO?p=WELL.TO&.tsrc=fin-srch (from Jan 1 2020 to Apr 15 2021)
[5] https://www.newswire.ca/news-releases/well-health-achieves-record-revenue-and-positive-adjusted-ebitda-in-q4-2020-driven-by-400-yoy-growth-of-software-and-services-revenue-861878058.html
[6] https://www.newswire.ca/news-releases/crh-medical-corporation-announces-2020-fourth-quarter-and-year-end-results-825729519.html
[7] https://ir.veeva.com/investors/news-and-events/latest-news/press-release-details/2020/Veeva-Announces-Fiscal-2020-Fourth-Quarter-and-Fiscal-Year-2020-Results/default.aspx
[8] https://www.mobihealthnews.com/news/teladoc-health-outlines-year-knockout-growth-q4-2020-earnings-call
[9] https://www.businesswire.com/news/home/20210309005989/en/Oak-Street-Health-Reports-Fourth-Quarter-2020-Financial-Results
[10] https://www.fool.com/earnings/call-transcripts/2021/03/25/american-well-corporation-amwl-q4-2020-earnings-ca/
[11] https://www.globenewswire.com/news-release/2021/02/25/2182928/0/en/One-Medical-Announces-Results-for-Fourth-Quarter-and-Full-Year-2020.html
[12] https://www.businesswire.com/news/home/20210318005928/en/Hims-Hers-Health-Inc.-Reports-Fourth-Quarter-and-Full-Year-2020-Financial-Results
[13] https://www.businesswire.com/news/home/20170718005456/en/PayPal-Completes-Acquisition-of-TIO-Networks
[14] https://www.fortunebusinessinsights.com/industry-reports/telehealth-market-101065
[15] Title "WELL accelerates scale in NA with CRH; US IPO on deck", dated Feb 18, 2021
[16] https://www.well.company/for-investors/news-releases/well-health-recognized-as-a-tsx-venture-50–company-for-the-third-year-in-a-row
---
DISCLAIMER: Nothing in this publication should be considered as personalized financial advice. We are not licensed under securities laws to address your particular financial situation. No communication by our employees to you should be deemed as personalized financial advice. Please consult a licensed financial advisor before making any investment decision. This is a paid advertisement and is neither an offer nor recommendation to buy or sell any security. We hold no investment licenses and are thus neither licensed nor qualified to provide investment advice. The content in this report or email is not provided to any individual with a view toward their individual circumstances. Biotech Insider is a wholly-owned subsidiary of Market IQ Media Group, Inc. ("MIQ"). MIQ has been paid a fee for WELL Health Technologies Corp. advertising and digital media from Market Jar Media Inc. There may be 3rd parties who may have shares of WELL Health Technologies Corp., and may liquidate their shares which could have a negative effect on the price of the stock. This compensation constitutes a conflict of interest as to our ability to remain objective in our communication regarding the profiled company. Because of this conflict, individuals are strongly encouraged to not use this publication as the basis for any investment decision. The owner/operator of MIQ does not own any shares of WELL Health Technologies Corp. MIQ will not buy or sell shares of WELL Health Technologies Corp. for a minimum of 72 hours from the publication date on this website (May 5, 2021), but reserve the right to buy and sell, and will buy and sell shares of WELL Health Technologies Corp. at any time thereafter without any further notice. We also expect further compensation as an ongoing digital media effort to increase visibility for the company, no further notice will be given, but let this disclaimer serve as notice that all material disseminated by MIQ has been approved by the above mentioned company; this is a paid advertisement, and we own shares of the mentioned company that we will sell, and we also reserve the right to buy shares of the company in the open market, or through further private placements and/or investment vehicles.
While all information is believed to be reliable, it is not guaranteed by us to be accurate. Individuals should assume that all information contained in our newsletter is not trustworthy unless verified by their own independent research. Also, because events and circumstances frequently do not occur as expected, there will likely be differences between any predictions and actual results. Always consult a licensed investment professional before making any investment decision. Be extremely careful, investing in securities carries a high degree of risk; you may likely lose some or all of the investment.