With so many companies coming to the front line during these trying times, we did a ton of research to find a company with the best structure, and more importantly, the strongest fundamentals with the most upside potential as an investment for you to look at.
Take a look at the company we've outlined below. It's relatively unknown (at the moment), but that won't last for long. This is a great example of one of those stories you hear about when that 'guy' bought a stock really cheap, and 6 months later was a millionaire, and for good reason!
---
---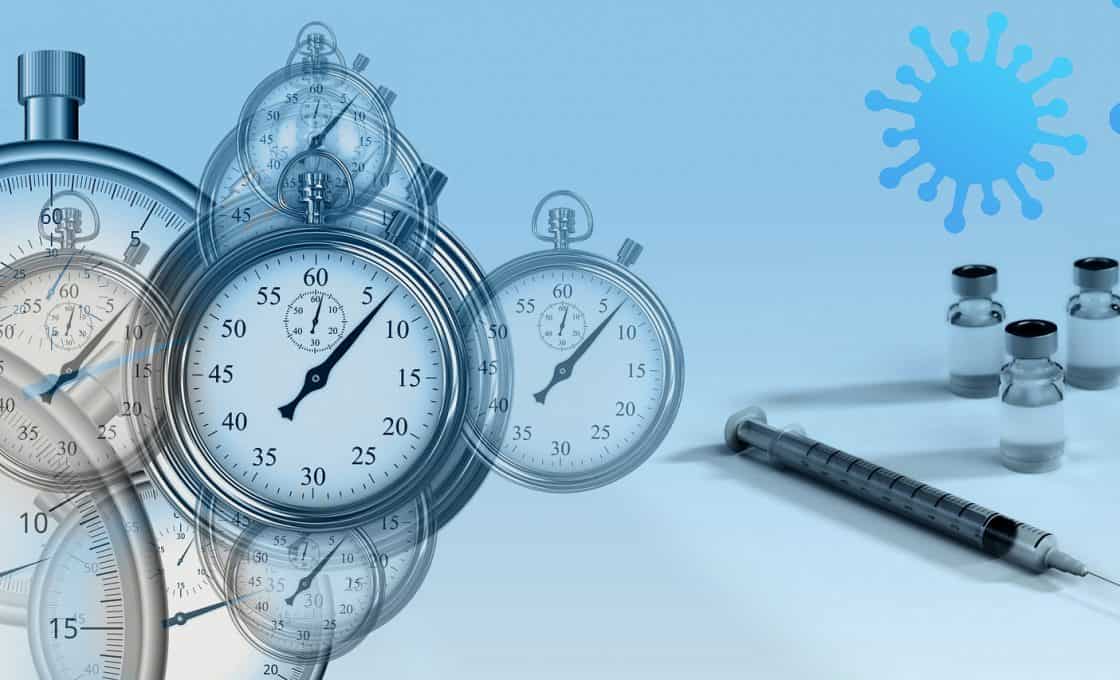 We all agree we need a vaccine for the COVID-19 pandemic, but the current vaccines still require people to wear masks, social distance and big-pharma still doesn't really know if even after you take their vaccine, if you can pass the virus on, and/or get it again.
We believe this company is about to change that landscape, forever!
Emerging Biotech developer BioVaxys Technology Corp. (CSE: BIOV, OTC: BVAXF) is making headlines by offering a potentially exceptional entry point with its unique, patented assets.
---
MOST RECENT NEWS: BioVaxys Bioproduction Partner WuXi Biologics Completes Synthesis Of Recombinant SARS-CoV-2 s-proteins for BVX-0320 and CoviDTH Programs
---
Prior to 2020, majority of the population only had a passing interest in vaccines and their development. But after a year or more of ongoing lockdowns, hysteria, and confusion, many have dug deeper into the potential for vaccines to get us out of this mess.
We've seen medical miracles take place, including the results of Operation Warp Speed, which helped to significantly reduce the preparation and testing time of multiple vaccines designed to attack the SarsCov2 virus.
Now the topic of vaccines is dominating discussions around the world, in terms of their availability, efficacy, costs, and side effects.
And while much of the attention is still being given towards the COVID-19 battle, other MAJOR developments are being made in other illnesses that have until more recently baffled researchers. It's almost as though our war against COVID-19 has unlocked all types of potential treatments, that only years ago would've been shuffled off into the realm of science fiction.
In some regards, it's been said that "we had the vaccine the whole time".
Now, under "emergency use" designations, Operation Warp Speed is lending itself to allowing researchers to conduct clinical trials simultaneously, rather than sequentially.[1]
The result has been an exceptional year of new vaccines and therapeutics being delivered, including many for ailments that have plagued humanity for much, much longer than the current crisis has.
A new development gaining headlines is a therapeutic vaccine—meaning it can be used a treatment for those who are already ill—that's believed could significantly extend lives.[2]
And its primary target is for ovarian cancer, of which 21,410 women will be projected to receive a new diagnosis in 2021, while approximately 13,770 will die from it.[3]
It's a deadly serious cancer, especially because it's often not spotted until far too late when tumours have spread to the rest of the body.
At its core, this treatment is built upon over $100 million in prior R&D investment, and a proven technology—a haptenized cell vaccine.
The technology is incredibly versatile, and is now being developed out by a single company with the team to back it up.
Now after some promising testing results in Europe begin to roll in, and with an emergency use application being prepared for the US FDA for a major breakthrough diagnostic approach to COVID-19, this company has multiple assets worth getting excited over.
Excitement over these forms treatment is coming from a single relatively small cap biotech company with a growing portfolio of very promising assets, including a COVID-19 vaccine, therapeutic vaccines for ovarian cancer and HPV, as well as a potential breakthrough diagnostic platform designed to identify COVID-19 T-cell immunity.
Big things are coming, from a company that's still very small… for now.
---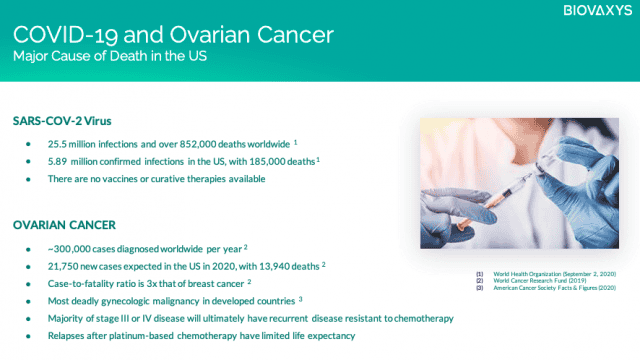 Meet the Up-and-Coming Developer Behind This Platform: BioVaxys Technology Corp.

Vancouver-based BioVaxys Technology Corp. (CSE: BIOV, OTC: BVAXF) is an early stage biotech company that's developing viral and oncology vaccine platforms, as well as immuno-diagnostics.
Among these developments, BioVaxys is advancing multiple breakthrough vaccines based on its unique, patented haptenized viral protein technology, including vaccines for both SARS-CoV-2 and ovarian cancer.
At the core of these platforms is a haptenized technology approach, with its SARS-CoV-2 vaccine based upon a haptenized viral protein technology, and an anti-cancer vaccine using a haptenized autologous cell vaccine, initially developed for ovarian cancer.
Also in development is a diagnostic for evaluating the presence or absence of a T cell immune response to SARS-CoV-2, the virus that causes COVID-19.
BioVaxys (CSE: BIOV, OTC: BVAXF) has two issued US patents and two patent applications related to its cancer vaccine, and pending patent applications for its SARS-CoV-2 (Covid-19) vaccine and diagnostic technologies.
What the company is proposing is a new and different approach than other RNA-based vaccine solutions. To those paying closer attention to the space, BioVaxys is certain that they're on route to multiple big breakthroughs to come.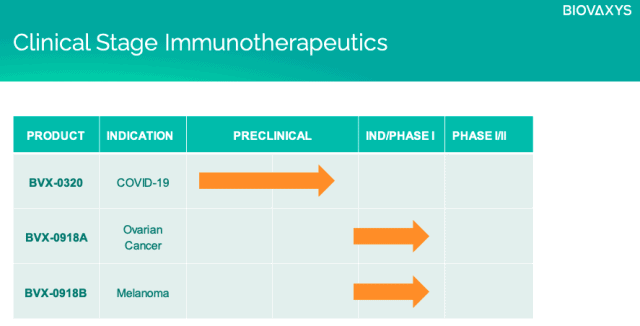 What is the "New" Haptenization Platform?
BioVaxys' approach is based on the established immunological concept that modifying proteins— whether they are viral or tumor antigens—with simple chemicals, called haptens, makes them more visible to the immune system.
The process of haptenization "teaches" a patient's immune system to recognize and make target proteins more "visible" as foreign, thereby stimulating an immune response. This idea has a long history, beginning with the work of the immunologist and Nobel laureate Karl Landsteiner, who showed in animal models that attaching a small chemical (a hapten) to a protein allowed that protein to be recognized by the immune system even if the animals were originally unresponsive to the protein.
A Proven Platform Used in Ovarian Cancer Trials
BVX-0918A is BioVaxys' lead haptenized tumor cell vaccine for ovarian cancer. Their cancer vaccine is created by extracting a patient's own (e.g. 'autologous') cancer cells, chemically treating them with a hapten, and re-injecting them into the patient to induce an immune response to proteins which are otherwise not immunogenic.
Haptenization as an immunotherapeutic approach in cancer treatment has been evaluated in both regional and disseminated metastatic tumors. A first-generation single-hapten vaccine achieved positive immunological and clinical results in Phase I/II trials. And so BioVaxys has enhanced this original vaccine approach to now utilize two haptens ("bihaptenization"), which they believe will yield superior results. They also plan to combine the use of their vaccine with anti-CTLA4 and anti-PDA checkpoint antibodies.
Now they've secured a partnership with leading privately-held European pharmaceutical company, Procare Health, in Spain to jointly conduct a Phase 1 Clinical Study of BVX-0918A.
---
"Survival was two to three times what one would expect [in women with advanced ovarian cancer]. There were a couple with five-year survival. "
– Dr. David Berd, Founder & Chief Medical Officer of BioVaxys
---
As per the terms of the partnership, BioVaxys Technology Corp. (CSE: BIOV, OTC: BVAXF) will be responsible for the core technology and vaccine production, with Procare Health overseeing and making an in-kind investment in the clinical program and regulatory planning, CRO management, patient/clinical center recruitment, marketing, and opinion leader management.
Already, the development of the treatment has garnered major headlines in the UK. It's clear that with other therapeutic vaccines gaining headlines for their ongoing successes—including 4 years later—there is something big happening here.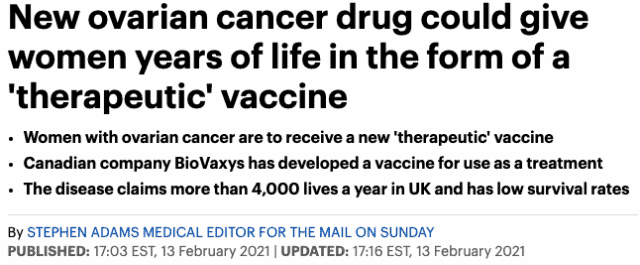 Joining the Fight Against Sars-CoV-2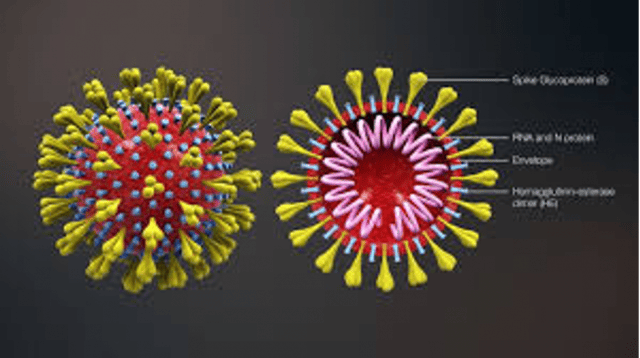 BioVaxys' lead vaccine candidate in preclinical development for SARS-CoV-2 is BVX-0320, a haptenized s-Spike protein which is critical to the virus' ability to bind to and enter human cells.
Already, the company has witnessed that BVX-0320 elicits a neutralizing antibody response against SARS-CoV-2, as evidenced by further analysis of sera samples from a preclinical animal study of its haptenized viral protein vaccine technology.
Under a BioVaxys-sponsored research collaboration with The Ohio State University ("OSU") Wexner School of Medicine, OSU researchers observed in a pooled sample that BVX-0320 elicited the production of neutralizing antibodies to SARS-CoV-2. It's worth noting that OSU is one of the few institutions that has the laboratory capability to study live SARS-CoV-2 virus.
BioVaxys' antiviral approach entails haptenizing those SARS-CoV-2 viral proteins that are critical to the ability of the virus to bind to and enter human cells. BioVaxys intends to haptenize the S protein or one of its subunits, and evaluate immunogenicity, with the intent of using prior safety and toxicity data of similar haptens from its prior/concurrent autologous cell cancer vaccine program.
Studies have demonstrated that patients recovering from SARS-CoV-2 infection carried helper T-cells that recognized the SARS-CoV-2 S-spike protein, and virus-specific killer T-cells were detected in 70% of the test subjects. As haptenized proteins are known to induce potent T cell responses, the BioVaxys approach could have an advantage over other developing SARS-Cov-2 vaccines.
Upon successful completion of this preclinical phase, BioVaxys plans to take further steps to pursue regulatory approval for a study of its SARS-CoV-2 vaccine in humans.
Preclinical animal studies have already delivered a 96.4% positive antibody immune response from an In Vivo Murine Model Study.
In addition to the vaccine candidate, BioVaxys has also filed a patent application for novel Covid-19 diagnostic for T-cell immunity. As well, the US Food and Drug Administration has tentatively agreed to permit that BioVaxys can file for pre-Emergency Use Authorization for the technology, called Covid-Ttm.
The BioVaxys method is based on measuring an immune response in a human showing no signs or symptoms of an active SARS-CoV-2 infection by administering a skin test of a subunit of the SARS-CoV-2 S-protein.
If ultimately successful, the diagnostic is intended to provide a low-cost, easy-to-administer, and accurate way to test for the presence of T-cells against SARS-CoV-2. Currently, the available methods of measuring T-cell immunity require a blood draw from the test subject followed by the time-consuming and expensive analysis of the blood sample at specialized laboratories.
BioVaxys' CEO, James Passin stated, "We are thrilled to further develop and move our novel diagnostic for SARS-CoV-2 T-cell immunity towards commercialization. The mass availability of our low cost and easy-to-administer T-cell immunity diagnostic could help to complement antibody testing and various public health risk mitigation strategies."
Using New Technology May Be the Exact Key That Unlocks the Door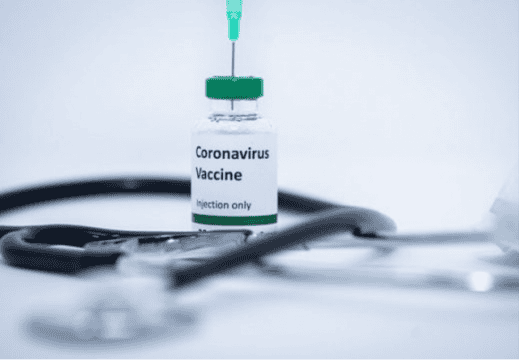 Now that vaccines are being rolled out around the world, there still remains a need to develop additional vaccine options and solutions, not only for COVID-19, but for some of the world's most dreaded cancers and afflictions.
BioVaxys has the background and experience in new biotechnology and already has ramped up its research in order to rapidly contribute to the search for effective haptenized vaccines.
BioVaxys Technology Corp. (CSE: BIOV, OTC: BVAXF) has worked intensively with a haptenization process to develop cancer treatments.
Using its haptenization knowledge, BioVaxys already has a patent application related to its SARS-CoV-2 vaccine technology.
BioVaxys Chief Medical Officer Dr. David Berd, has stated, "Given our positive experience with haptenized cancer vaccines, we are optimistic about the potential prospects for developing a haptenized SARS-CoV-2 protein vaccine, since viral proteins are foreign to the human immune system. We look forward to advancing our vaccine technology through the clinical approval process."
---
Feature Company:

BioVaxys Technology Corp.
Trade Symbols: CSE: BIOV / OTC: BVAXF
Market Cap: ~$15 Million
---
Standing on the Shoulders of Giants
BioVaxys may be a relative newcomer in the biotech space, however their platform is the result of nearly a century of well-respected research and over $100 million invested into the concept that supports the platform developed by a legacy company.
The force behind the development is Dr. David Berd, Founder and Chief Medical Officer of BioVaxys. Berd is a medical oncologist with a lifelong record of clinical research in medical oncology and cancer immunotherapy. He cofounded cancer immunotherapy company AVAX Technologies, is the inventor of the cancer vaccines MVax™ and OVax™ and served as Chief Medical Officer 2005-2008. As National Director for Immunotherapy at Cancer Treatment Centers of America, Dr. Berd investigated the application of the AC vaccine to ovarian cancer.
Previously, Dr. Berd was Professor of Medicine at the renowned Thomas Jefferson University, where he conducted clinical research on melanoma immunotherapy for 20 years. Dr. Berd has published more than 85 original papers in numerous medical journals alongside dozens of editorials, reviews and abstracts and has ten issued patents dealing with cancer vaccines.
Berd is paired with an equally successful operations officer, Kenneth Kovan. Kovan is Founder, President and Chief Operating Officer of BioVaxys with over 30 years of experience in biopharmaceuticals commercial development. He is Corporate Licensing/M&A Partner with Horizon Discovery plc in the United Kingdom, a world leader in gene editing, and Managing Principal & Owner of BinghamHill Ventures, a lifesciences advisory practice that specializes in corporate development, technology licensing, and business planning.
Like Dr. Berd's experience, Kovan's professional background includes ties to Thomas Jefferson University in several years of technology transfer with Strategic Marketing with GSK, and Global New Product Development with Wyeth-Ayerst. Kovan also holds a US Patent for a synergistic infectious disease drug combination.
Facing the market is Founder and Chief Executive Officer James Passin, who is a former Fund Manager at FG2 Advisors, LLC, an affiliate of New York-based Firebird Management LLC. Passin has directed and managed over $155 million of equity and debt investment into biotech companies, including Avax Technologies Inc., one of the world's first cellular immunotherapeutic vaccine companies. He's currently a director for several public companies.
With experienced veterans like Berd, Kovan and Passin at the helm, BioVaxys is positioned to take advantage of the depth knowledge gained through proven research to pursue a vaccine and leverage its platform.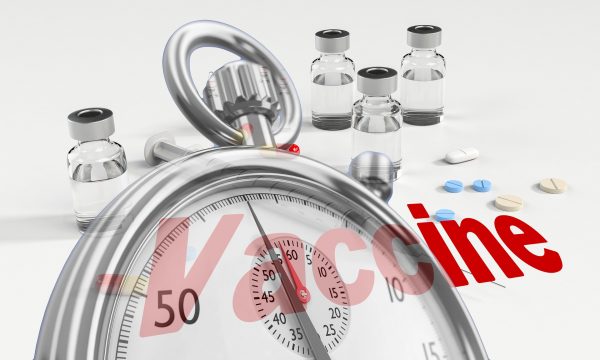 ---
8 Solid Reasons to Look at BioVaxys Technology Corp. (CSE: BIOV, OTC: BVAXF)
BioVaxys is applying a new platform to developing a COVID-19 vaccine based on legacy investment of $100+ million in research
The company's platform is very well established supported by a well-understood mechanism of action, and promising clinical data
BioVaxys has patented its platform and controls all products that use their unique approach
BioVaxys' platform for haptenized treatment has equal promise in treating forms of cancer; this is no one trick pony
BioVaxys has also filed a patent application for a novel diagnostic platform for detecting T-cell activity, and has been given tentative permission from the FDA to file for pre-Emergency Use Authorization.
No single dominant player can guarantee that they will provide and safe an effective vaccine for COVID-19, leaving the field open for first movers
Big pharma is already seeking collaborations with small biotechs to find solutions that can make their approaches more effective; BioVaxys could be a target
The management team are leaders in the areas of biotechnology and vaccine development with lifetime careers in creating the breakthrough BioVaxys platform
The Editors
USA News Group
—
SOURCES
Sources
[1]https://nymag.com/intelligencer/2020/12/moderna-covid-19-vaccine-design.html
[2]https://www.dailymail.co.uk/news/article-9257503/New-ovarian-cancer-drug-women-years-life.html
[3]https://www.cancer.org/cancer/ovarian-cancer/about/key-statistics.html
---
DISCLAIMER
Nothing in this publication should be considered as personalized financial advice. We are not licensed under securities laws to address your particular financial situation. No communication by our employees to you should be deemed as personalized financial advice. Please consult a licensed financial advisor before making any investment decision. This is a paid advertisement and is neither an offer nor recommendation to buy or sell any security. We hold no investment licenses and are thus neither licensed nor qualified to provide investment advice. The content in this report or email is not provided to any individual with a view toward their individual circumstances. Biotech Insider is a wholly owned subsidiary of Market IQ Media Group ("MIQ"). MIQ has been paid a fee for BioVaxys Technology Corp. advertising and digital media from the company directly. There may be 3rd parties who may have shares of BioVaxys Technology Corp. and may liquidate their shares which could have a negative effect on the price of the stock. This compensation constitutes a conflict of interest as to our ability to remain objective in our communication regarding the profiled company. Because of this conflict, individuals are strongly encouraged to not use this publication as the basis for any investment decision. The owner/operator of MIQ own shares of BioVaxys Technology Corp. which were purchased in the open market and through a private placement with the company. MIQ reserves the right to buy and sell shares of BioVaxys Technology Corp. in the open market and/or through other investment vehicles, and will buy and sell shares of BioVaxys Technology Corp. commencing immediately without any further notice. We also expect further compensation as an ongoing digital media effort to increase visibility for the company, no further notice will be given, but let this disclaimer serve as notice that all material disseminated by MIQ has been approved by the above mentioned company; this is a paid advertisement, we currently own shares of BioVaxys Technology Corp. and will buy and sell shares of the company in the open market, or through private placements, and/or other investment vehicles.
While all information is believed to be reliable, it is not guaranteed by us to be accurate. Individuals should assume that all information contained in our newsletter is not trustworthy unless verified by their own independent research. Also, because events and circumstances frequently do not occur as expected, there will likely be differences between the any predictions and actual results. Always consult a licensed investment professional before making any investment decision. Be extremely careful, investing in securities carries a high degree of risk; you may likely lose some or all of the investment.