Struggling department store chain Debenhams has agreed a £200m refinancing lifeline with lenders.
The deal offered "reassurance" for employees, pension holders, suppliers and lenders, it said.
The retailer said it would continue with plans to cut the number of its stores and negotiate rent reductions.
The financial deal leaves the door open for Mike Ashley's Sports Direct, which has been vying to seize control of Debenhams, to make a bid.
"We are pleased to have agreed this comprehensive funding package which secures the future of the Debenhams business," said Debenhams chairman Terry Duddy.
"We have also preserved a route for our shareholders to participate in the future of the business, but this requires the support of our major shareholder."
Sports Direct is the biggest Debenhams shareholder, with a 29.7% stake. Brandes Investment Partners, Odey Asset Management and retail conglomerate Landmark Group are also significant shareholders.
The deal will make £101m available for Debenhams to draw down.
But whether Debenhams can get hold of the remaining £99m depends on one of the following options taking place by 8 April.
One is that Sports Direct, or another major shareholder with more than a quarter of the company's shares, makes a firm offer for the retailer, including refinancing Debenhams debt, the department store said.
Alternatively, Sports Direct could drop its attempt to oust all but one of the Debenhams board, and either agree to underwrite a rights issue or provide funding on terms agreed by Debenhams' lenders.
If neither of these happen, Debenhams said the remaining funds would be made available only when the company's lenders take over the business, but added this "would very likely result in no equity value for the company's current shareholders".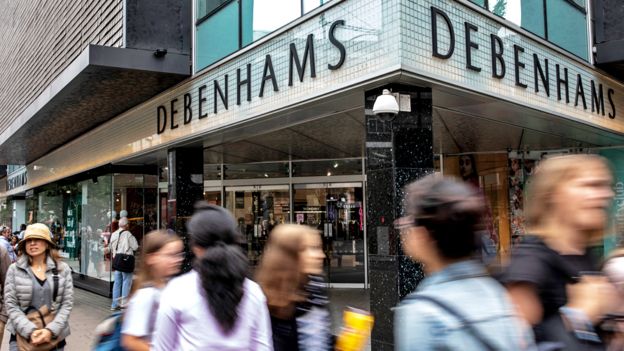 Sports Direct has made a number of attempts to seize control of Debenhams, which have been rebuffed.
Debenhams said none of the proposals "have provided or been compatible with a comprehensive solution".
Shares in Debenhams jumped more than 40% following news of the refinancing deal being completed.
A spokesman for the trustees of the Debenhams Pension Schemes said: "We hope that the agreement will form the basis of a sustainable solution for the trading business that ensures that it will continue to support the pension schemes on a long-term basis."
Earlier on Friday, Mr Ashley hit out after Debenhams bondholders cleared the way for the refinancing.
Laith Khalaf, a senior analyst at Hargreaves Lansdown, said that Mike Ashley was now "between a rock and hard place".
"He faces either seeing his stake in Debenhams disappear, or having to stump up cash to keep shares in the company alive.
"If Sports Direct doesn't want to pour good money after bad, the equity in Debenhams will almost certainly be wiped out, and the lenders will take control of the company.
"This has been a really desperate period for Debenhams, and it now looks like the company is on the brink of seeing its shares extinguished, unless there's one last twist in the tale, courtesy of Mike Ashley."