The birthplace of the iconic McIntosh apple – an ageing orchard in Ontario, Canada – is up for sale.
Pioneered by John McIntosh in 1811, the McIntosh Red would grow to become one of the most popular varietals and inspire Apple's Macintosh computer.
McIntosh's farm is being sold by its current owner Gerd Skof for C$875,000 ($675,000, £514,000).
The ruby-red fruit has been the inspiration behind Apple's Macintosh computer.
The farm has been vacant for over a year and whoever buys the spot in Dundela near the New York border will need to love home repairs as much as history.
A CBC reporter who visited the property described it as "overgrown".
"Today, the McIntosh red apple trees go unpruned and unpicked, with hundreds of kilograms of fruit rotting on the ground. Some have disappeared in wild overgrowth, along with pear and plum and walnut counterparts, as the orchard slowly returns to bush," wrote Stu Mills for the CBC.
Mr Skof says he and his wife moved 16 months ago to be closer to a hospital in their old age. Before they bought the place in 1987, he says it changed hands several times. Over the years he put in extra bathrooms and amenities for farm labourers.
Some of his neighbours have raised eyebrows at the price tag, but Mr Skof says he is in no rush to sell.
"I'm an old guy, was never sick one day, never in a hospital. I moved out 16 months ago and my three freezers in Ottawa are full of fruits to keep me young," he said in an email.
Mr Skof thinks the farm's role in agricultural history would make it an "ideal tourist attraction", although that was never something he wanted to do.
At one point, he got so sick of apple history lovers exploring his properties he put up a "no trespassing" sign.
History of the McIntosh apple
Look up the definition of the word "apple" in the dictionary and you will likely find a picture of the McIntosh Red – the fruit's sweet but mild flesh is the quintessential taste of early autumn.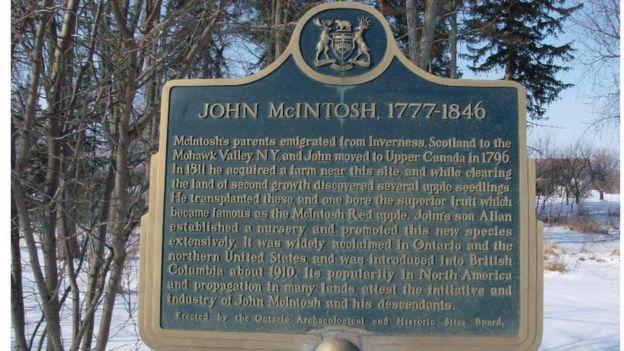 The fruit was discovered when John McIntosh bought the farm in 1811 and found some apple saplings that went on to produce especially delicious fruit. His son learned how to clone the tree and commercial production began in earnest in 1870.
The original McIntosh tree died in 1910, but its clones lived on. By 1960, the McIntosh dominated 40% of the Canadian apple market and was imported as far as Britain.
The apple was so beloved by Apple employee Jef Raskin that he named the company's flagship personal computer after it, with a slight change in spelling to avoid another company's copyright.
But its popularity has waned, and the apple now accounts for just about a quarter of the Canadian market, and just 5% of the US market.