A payment processing firm that used to be owned by Royal Bank of Scotland has been sold in a deal worth $43bn (£32bn).
WorldPay has been bought by Florida-based Fidelity National Information Services (FIS) for $35bn in cash and shares, plus WorldPay's debt.
Customers of WorldPay include TopShop, Clarks, Monsoon, Accessorize and multiple pub and restaurant chains.
FIS sells payment services and also software for the finance industry.
WorldPay was sold by RBS in 2010 as a condition of the bank's bailout following the financial crisis.
Since then WorldPay's value has risen dramatically and now matches the stock market value of its former owner RBS.
Demand for WorldPay services has surged as shoppers are using their cards more, either to buy products online, or using cards in shops.
FIS said buying WorldPay would help it sell more services to banks and other financial firms. The company's chief executive Gary Norcross said "scale matters in our rapidly changing industry".
'Rapid shift'
The rise of financial technology firms, known as fintech, has seen technology firms taking on banks in a race for control of the digital payments market.
"The need to invest, to continue to modernise both the technology and application layers, and continue to innovate so our customers can continue to be disrupters, will be important for us," Mr Norcross told investors in a call on Monday.
Neil Wilson, from Markets.com, said the deal "signifies the very rapid shift in the payments industry and the amount of investment the businesses need".
He expects more deals in the sector as companies look to get bigger.
Gareth Wilson, Accenture's global payments chief, said the deal was "huge" for the industry, in particular because it "puts a price on the expected value of disruption" in the industry.
"The structure of the industry is ripe for change, and payments is the battleground for new activity," he said.
According to Accenture, in 2017 in Europe, 20% of all 1,400 financial services firms were considered to be "new", because they had started after 2005.
The UK has seen a "huge rise" in fintech, because it has led the way in liberalising the banking industry.
There are now 2.5 times more financial services companies in Britain than in 2005, and 91% of these firms are offering payments services.
Changing hands
WorldPay first started in 1989 as electronic payments system Streamline. It was owned by NatWest Bank, which was then acquired by RBS in 2002.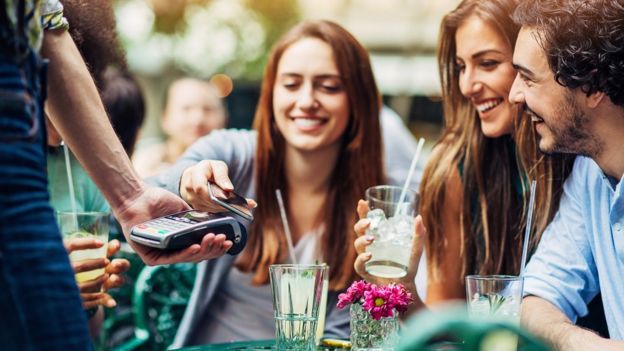 Streamline was renamed as RBS WorldPay. RBS expanded the service to other countries, including the US and the Netherlands.
In 2009 the European Commission said that RBS would have to sell WorldPay and other businesses, as a condition of approving state aid to the bank.
The next year, WorldPay was sold to private equity firms Advent International and Bain Capital for £2bn, with RBS retaining a 20% stake.
In 2013, RBS sold off its remaining stake. WorldPay went on to sell shares on the London Stock Exchange in 2015.
In January 2018, US payments processing technology firm Vantiv acquired WorldPay for $10.4bn. Vantiv renamed the combined firms WorldPay.
Last October, BT poached WorldPay's co-head Philip Jansen to replace Gavin Patterson as chief executive of the telecoms group.