Any near-term equity correction will be a buying opportunity for investors, JPMorgan strategists said as "we are only in the middle of the current bull market."
The investment bank's global markets strategy team said there was a clear consensus when it came to year-ahead trading themes, but urged investors to seek out less-crowded trades. They said the 'long equities' theme was crowded tactically and prone to a correction in January.
Elevated positioning by momentum traders and rebalancing flows by balanced mutual funds and pension funds posed some downside risk into year-end, they added in a note to clients. However, over the medium term, the long equity trade appears less crowded and closer to average than overbought levels.
"Thus any equity correction in the near term would represent a buying opportunity as in our opinion we are only in the middle of the current bull market."
With the consensus view rarely playing out in its entirety, JPMorgan JPM, +0.10% urged traders to scale exposures to avoid an "overly concentrated portfolio." One way of doing this was by limiting exposure to the most crowded trades, which currently include short the U.S. dollar vs. cyclical developed market currencies and bullish positions on copper and bitcoin BTCUSD, -2.72%, as well as overweight non-U.S. equities vs U.S. stocks SPX, +0.28%.
But the strategists said, "luckily" there were several less-crowded consensus trading themes, including overweight emerging market equities against developed market equities, and long gold and oil. Favoring value stocks over growth ones at an individual stock level was also a less-crowded consensus trade.
The chart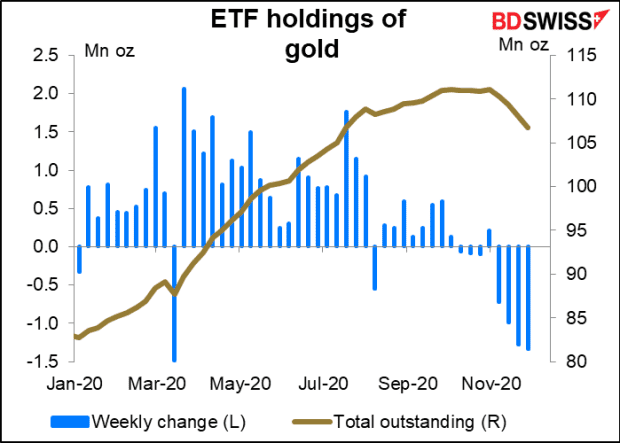 This chart from BDSwiss shows that the week to Dec.1 was the fourth- straight week of a reduction in ETF (exchange-traded fund) holdings of gold GC00, -0.59%. Its head of investment research, Marshall Gittler, noted that this was "not by any way the longest or deepest selloff of gold ETFs," with 26 consecutive weeks of falling holdings in 2013. In contrast, ETF holdings of silver increased after two weeks of decline.