Philippines tourism hotspot limits visitor numbers and clears out casinos and beach vendors
The Philippines has reopened its famous holiday island of Boracay – spruced up and newly regulated after it was closed to mend decades of harm caused by unchecked tourism.
The sandy idyll was closed to visitors in April after President Rodrigo Duterte called it a "cesspool" tainted by raw sewage flowing from hotels and restaurants straight into the sea.
But the rechristened resort has a slew of new rules that restrict drinking on the beach, limit the number of tourists and hotels, all while renovations continue.
Under the new regime, the beachfront has been cleared of the masseuses, vendors, bonfires and even the builders of its famous photo-op sandcastles. Buildings have been bulldozed and businesses pushed back to create a 30-metre buffer zone from the waterline.
All water sports, including scuba diving, jet skiing and kit-boarding, have also been banned for the time being while a marine assessment is carried out by divers and marine biologists this week.
Boracay's three casinos have also been permanently closed, in line with Duterte's wishes.
Years of overdevelopment on the tiny island – which previously handled 2 million tourists a year – had left it soiled, crowded and pushed to its limits.
Michael A Martillano, the president of the island's diving association, who is taking part in the marine assessment of Boracay this week, told the Guardian the water quality, corals and marine life had "really improved" in the past six months.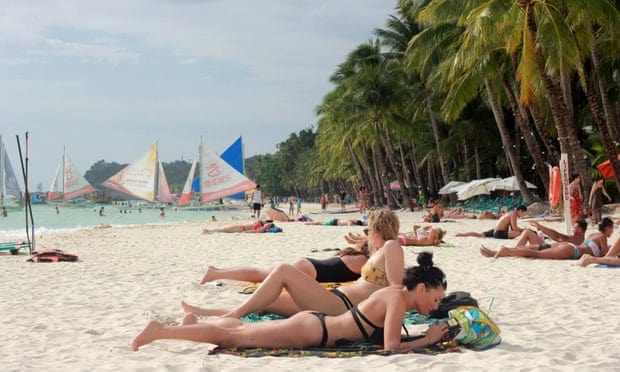 But he admitted that some of the new restrictions, particularly on parties, would be a "big adjustment for all of us".
Drinking and smoking are banned on the beach and the huge multi-day beach parties dubbed "LaBoracay" that drew tens of thousands of tourists during the 1 May labour day weekend will be a thing of the past.
"Boracay has been known as one of the best destinations for a laidback island where you could party any time you want, often on the beach, but now that won't happen in the same way," said Martillano. "It's still going to be fun but the old habits of doing whatever you want, whenever you want to party, that will be the biggest change and probably tough for some people."
The fact that diving and water sports remained suspended was " a bit of a bummer for us, very frustrating", said Martillano, but overall he was optimistic about the future of Boracay.
"It's now going to be a different mentality for everyone who will enter Boracay, whether you are a tourist, or a local or a worker on the island," he said. "Have a good time but also take care of mother nature."
Boracay, which major tourist magazines consistently rate as among the world's best beaches, measures a mere 1,000 hectares (2,500 acres).
At peak times there would be 40,000 visitors there, spending $1bn a year but also leaving mountains of garbage and an overflowing sewer system.
The new rules say 19,200 tourists will be allowed on the island at any one time, with the government aiming to enforce that by controlling the number of available hotel rooms.
Nearly 400 hotels and restaurants deemed to violate local environmental laws have already been ordered closed and airlines as well as ferries have been told to restrict services.
Thirty-year-old tourist Roan Tadle from Manila said: "Even if there are many renovations and it's not yet perfect, when you go to the beach you realise that closing it for six months was worth it."
'Everyone, big and small, has sacrificed a lot'
Tourism secretary Bernadette Romulo-Puyat says she hopes the new Boracay will be the start of a "culture of sustainable tourism" in the Philippines, adding other tourist destinations will be next.
The Boracay Foundation, the main business industry group on the island, has not commented on the restrictions but welcomed the return of tourists.
"Everyone, big and small, has sacrificed a lot during the six-month [closure]," its executive director Pia Miraflores said.
Tens of thousands of workers were left unemployed when the island's tourism machine was deprived of visitors.
"Life will go back to normal. We will have money and work again," said Jorge Flores, 45, a hotel worker. "In the past six months, hotels here were like … a ghost town."
Other places in the region strained by mass tourism have also used closures as a tactic to protect the sites from destruction.
Thai authorities announced in October that the glittering bay immortalised in the movie The Beach will be closed indefinitely to allow it to recover from the impact of tourism.