How Oracle conveys cloud growth will be noteworthy
Nebulous cloud growth at Oracle Corp. may not come as a shock this quarter, with investors and analysts anticipating that the enterprise software giant won't break out cloud numbers, following the surprise omission of that metric three months ago.
Oracle ORCL, +0.59% is scheduled to report its fiscal first-quarter earnings after the market close on Monday.
Investors were taken aback in the most recent earnings report when the company failed to publish results in its cloud business. That unexpected change followed the company's previous earnings report when the cloud-growth forecast fell below Wall Street estimates, confirming fears that the business wasn't growing as quickly as hoped.
Still, that hasn't prevented analysts from producing projections. Analysts surveyed by FactSet estimate total cloud services and license support revenue of $6.68 billion, with SaaS, or software as a service, revenue accounting for $1.31 billion of that figure. Analysts expect $5.95 billion to be categorized as on-premise software revenue, and $905.8 million as new software license revenue.
"While some of the deceleration in legacy SaaS businesses has been a bit disappointing in recent quarters, we see more stabilization from current levels and we remain confident on Cloud [enterprise resource planning and human capital management] momentum," said Cowen analyst J. Derrick Wood, in a note. He has an outperform rating on Oracle's shares.
"We heard of a large Cloud HCM transaction in 1Q and our checks suggest that ORCL is seeing an up-tick in cloud migrations from the install base. This gives us confidence in our organic SaaS growth forecast of ~20% cc for the quarter (23% cc on a reported basis including acquisitions), though we note that ORCL no longer discloses these numbers," Wood said.
Oracle's cloud business also took a decidedly curious turn in September when Thomas Kurian, who led Oracle's cloud business, said he was taking "extended time off". Also, shares tumbled in August after Amazon.com Inc. AMZN, -0.99% reportedly said it would stop using Oracle software.
Earnings: Of the 23 analysts surveyed by FactSet, Oracle on average is expected to post adjusted earnings of 68 cents a share. Estimize, a software platform that uses crowdsourcing from hedge-fund executives, brokerages, buy-side analysts and others, calls for earnings of 71 cents a share.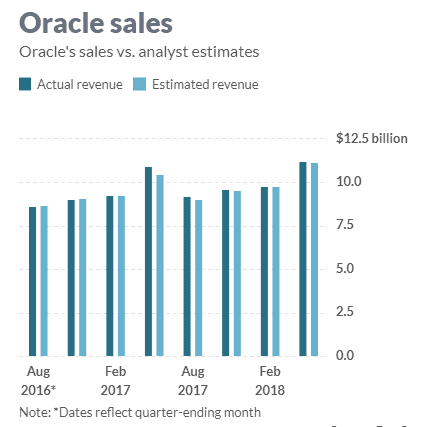 Revenue: Wall Street expects revenue of $9.24 billion from Oracle, according to 21 analysts polled by FactSet. Estimize forecasts revenue of $9.37 billion.
Stock movement: Oracle shares have recovered from their beating following the company's most recent earnings report, and have risen by about 6% in the interim. In comparison, the S&P 500 index SPX, +0.03% is up 5.1%, the Nasdaq Composite Index COMP, -0.05% has gained 3.7%, and the Dow Jones Industrial Average DJIA, +0.03% is up 5.9% over that period. However, given Friday's close of $49.26, Oracle shares have yet to fully recover from that March plunge, and are still off by about 5% from the fiscal third-quarter earnings report.
What analysts are saying: Of the 35 analysts who cover Oracle, 18 maintain buy or overweight ratings, 16 have hold ratings and one has a sell rating, with an average price target of $53.34.
Stifel analyst Brad Reback, who has a hold rating, said he is cautious about Oracle's Infrastructure-as-a-Service efforts.
"Given the lack of meaningful capex investments and limited traction to-date, we are not convinced Oracle can catch up with AWS, Azure, and GCP in coming years (or at all), and we support the notion of increasing Oracle support for other clouds," Reback said.
AWS is Amazon's public cloud, whereas Azure is Microsoft Corp.'s MSFT, +0.41% and GCP stands for Alphabet Inc.'s GOOG, -0.24% GOOGL, -0.35% Google Cloud Platform.
Other analysts are seeing Thursday's earnings as a yawner, with more disclose expected during the company's annual conference.
"We expect Oracle's Q1 earnings to be a relative non-event, but getting through earnings clears the decks for improving sentiment over the next three months as the company's Autonomous Database gains momentum ahead of Oracle's OpenWorld User Conference," said UBS analyst Jennifer Swanson Lowe in a recent note. Lowe has a neutral rating on Oracle's stock.
OpenWorld runs from Oct. 22 to Oct. 25 in San Francisco.