TfL says aim is for London rail link to open 'as soon as practically possible in 2021'
Crossrail will not open until at least 2021, incurring a further cost overrun that will take the total price of the London rail link to more than £18bn, Transport for London (TfL) has announced.
The latest assessment for the opening of the central section has ruled out late 2020 and the aim is for Crossrail to open "as soon as practically possible in 2021", the capital's transport authority said. TfL had previously said the Elizabeth line, as the service will be called, was unlikely to start running before 2021 but had kept an autumn 2020 opening in its plans.
The admission means that key direct services such as from Canary Wharf to Heathrow airport will almost certainly not run until at least 2022.
The latest delay was caused by the need for more time to develop signalling software and to get safety approvals for the railway.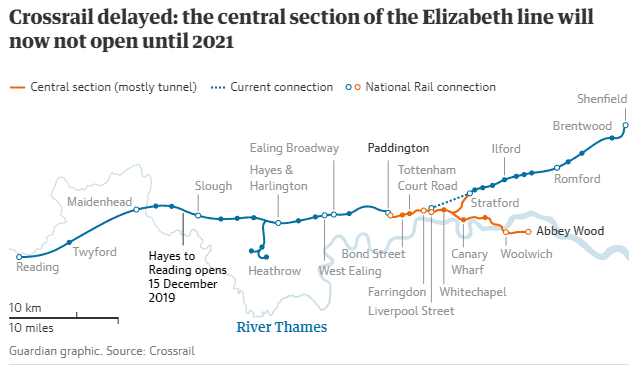 Changes to design and schedules increased costs on most of the project's 36 main contracts. The costs of civil engineering works at Whitechapel station alone, as of December 2018, were £659m – six times the amount originally budgeted and more than double the estimate in 2015.
London politicians and business groups reacted with dismay. Caroline Pidgeon, a Liberal Democrat assembly member, said it was "appalling news for Londoners" and said both the mayor and the transport secretary had failed to hold Crossrail to account. She said the delay would also "put back further investment in London's transport network and create further havoc to TfL's finances. This also damages the hopes of Crossrail 2 getting started in the next decade."
Business group London First said it was "very disappointing". Its chief executive, Jasmine Whitbread, said: "Efforts must be redoubled to ensure that the railway opens as soon as practically possible and that we learn the lessons for future projects."
Crossrail is on track for one impending milestone, with the full western branch out to Reading from Paddington due to come into service under TfL Rail on 15 December.