Canada's Barrick Gold is buying Randgold Resources, creating the world's biggest gold miner with a value of about $18bn (£14bn).
The firms own some of the world's most valuable gold fields, producing more than 6.6 million ounces of gold a year.
Barrick shareholders will end up own two-thirds of the combined firm and Randgold will own the remaining third.
Shares of both firms have fallen almost 30% this year, amid falling gold prices and questions over their strategy.
"Our industry has been criticised for its short-term focus, undisciplined growth and poor returns on invested capital. The merged company will be very different," said Mark Bristow, Chief Executive of Randgold.
"Its goal will be to deliver sector leading returns, and in order to achieve this, we will need to take a very critical view of our asset base and how we run our business, and be prepared to make tough decisions," he added.
The price of gold has fallen more than 8% this year, putting all gold producers under pressure.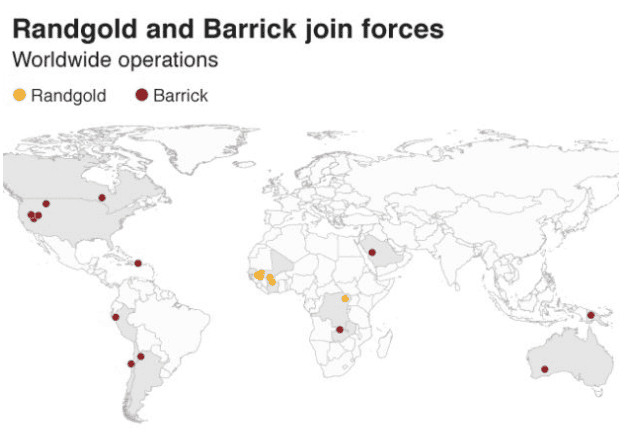 Barrick and Randgold will be hoping that their combination will allow them to cut costs and drive up profit margins.
Analysts also say that Barrick's mines which are in relatively stable countries complement Randgold's assets in riskier locations.
"From Randgold's perspective the deal diversifies exposure away from high-risk African markets and towards Barrick's more stable North American assets. Given recent headwinds that's welcome," said Nicholas Hyett, an analyst at Hargreaves Lansdown.
However, other analysts were less impressed by the deal.
"A very defensive move – production is really down and their shares [Randgold and Barrick] have really taken a battering," said Neil Wilson, financial analyst at Markets.com.
"For Barrick the access to Africa is important as they have not really had that expertise and struggled there. But equally that might not fly that well with the Barrick shareholders if they would prefer to stick to other markets," he added.
The new company will keep the Barrick name and be listed in New York and Toronto, while Randgold's London listing will be cancelled.